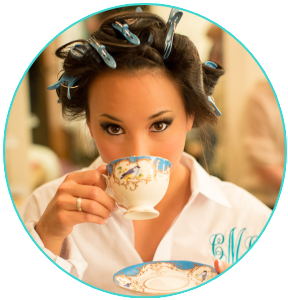 Hello and Welcome to Yes Dear & Co.!
I'm the owner and designer Cassia Lewis, located in Orange County and servicing the Southern California community.  I'm an accessory designer and make-up fanatic with an enthusiasm for fashion + beauty, a passion for good food, — and an addiction to organizing and planning.
At Yes Dear & Co., I design one-of-a-kind beaded bridal accessories, custom veils, and custom invitation suites, offer services as a wedding planner, and as an on-location hair and make-up artist.
My Beginnings …
I have always  had a love for the fashion + beauty industry, and have been involved with hair and make-up for the last 15 years. Since my high school days friends and family would ask me for style advice and to do their hair and make-up for special events, weddings, pageants, competitions, and prom.  It was because of this love that I attended North Carolina State University College of Textiles, and majored in Fashion and Textile Management. During my time in school, I worked to design and create wedding gowns and accessories for my Senior Collection and Showcase project, I Thee Wed.  I learned several beading techniques and hand beaded over 3,000 beads on one of my final pieces. You can check out my online portfolio featuring my collection and design work.
The wedding experience and planning aspect of weddings is a dream for me, the organization addict. The details, the planning, the reservations, — I love it all. After graduating, I started to get requests from friends and family for my services in planning, custom hand beaded pieces for their weddings and special occasions, as well as design requests for invitations and prints.  I finally decided to go for it and Yes Dear & Co. was born out of  their encouragement and love!
My Design + Service Process …
I work to ensure that each delicate detail of my process is inspired by the end. Meaning — I talk with the consumer and work to create the vision you see in your mind. I want to work to meet your vision.
To ensure quality products and training, I am an independent beauty consultant with Mary Kay. I work with great detail with the product to customize the right look for your special day! Check out my personal beauty website for more information.
Whether it be your look, your dream day, or a detail for your big day! Lots of time, love, + focused attention goes into each and every aspect of what I do!
My Goal…
Elegance, beauty, and as close to perfection as I can get.
I want you to feel like the details that are a part of your vision and look can come to life. I want to help you in that process and do what I can to make your special day perfect.
My goal is to make you look and feel exquisite, one-of-a-kind, and my response will always be, Yes Dear.
---
Photo Credit to Libby McGowan Photography